BUILDING ON A SCOTTISH ISLAND
25th February 2020
We were delighted to see an article in Conde Nast Traveller magazine recently about a Scottish island property on which we've been part of the project delivery team.
The article cites Ardfin Hotel as being the most exciting hotel opening in Scotland in 2020. Due to fully open in spring, the hotel is part of the Ardfin estate on the isle of Jura, covering 12,000 acres, 10 miles of coastline and 7 islands. The main estate building, Jura House will also be available as an exclusive and luxurious private hire for groups.
Ardfin's wild and windswept links golf course, completed in 2019, is already being hailed as one of the best in the world, with Atlantic sea views from almost every hole. It has a naturalistic feel, and is a difficult course, partly perched on a cliff. It was designed to cause minimal disturbance to the local environment and is maintained without use of pesticides.
Architects Stanhope Gate have designed the architectural alterations, extensions and improvements to the house and outbuildings. Inside, acclaimed interior designer Louise Jones has devised a lavish, highly ornate interior style, rich in pattern, colour and fabrics, with an abundant Victorian sensibility. Our role was as executive architects, which in this case meant advice, obtaining planning consent and building warrants, drawing up technical plans and overseeing the build with regular site visits.
Working on a project in the Inner Hebrides over a substantial period has highlighted the extra challenges of working away from the mainland on a large-scale building project. Many of these are practical issues, such as the contractor having to accommodate and feed up to a hundred workers, keep them happy and ensure they're productive. Workers did 17-day shifts like on an oil rig. There was also a temporary site village with a canteen, and evening activities such as a running group, a cycling group, football sessions and fishing.
The weather brought its own challenges. Solutions to prevent the weather stopping work included a fully lit temporary roof – meaning work could go ahead between 7am and 7pm, even during dark and short January days. The site was alive with action all the time.
The main difference with an island project however is that for those doing the majority of the work, you are all stuck there as no one is going home, and for periods that includes the design team. Those who keep morale high and build pride among the workforce are invaluable. But the organisers are essential too, as logistics are crucial and are a constant challenge. But with being stuck on a small island, productivity was high. There was always a feeling of let's get the job done.
And, of course, after a few days of hard work, an occasional night in the island pub was a joy for everyone. I will certainly miss those convivial island evenings – until the next island project.
It has been fascinating working on Jura, not least the 2-ferry commute there from mainland Scotland – giving plenty of time for contemplation. Though the rush of the bumpy rib ride from Tayvalich offers an alternative thrill. The estate is sure to attract guests seeking a luxurious Scottish getaway for golf, stalking, walking and other activities, either taking on an exclusive hire of Jura House or staying in the hotel.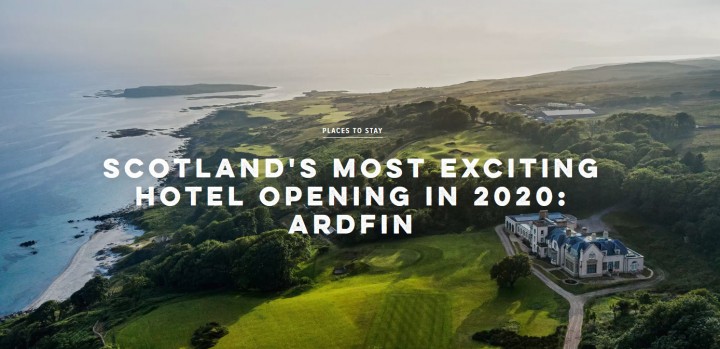 Do contact us about any Highland and Island projects – as Tom Robinson is looking forward to working off the mainland or in the wilds of northern Scotland again soon.