FEATURE: HOW TO WIN AT THE PLANNING GAME
9th January 2018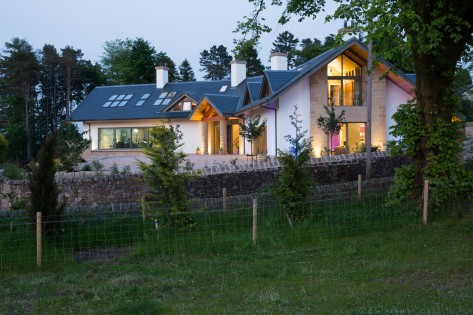 A question to always ask yourself as an architect is, does your design have a story? My brilliant professors Andy MacMillan and Isi Metzstein at the Glasgow School of Art, and my former boss, architect David Page would always enquire, 'What's the story then?', when I produced a design for critique. Although nerve-racking at the time, it has ingrained in me the importance of asking myself this exact question as a designer and architect each time I embark on a new project
Not only will a solid story – or concept – help you get a project past the planners, it will also make for a smoother build process, and result in a more successful house or building.
Why is it so important? If your story or concept is good, the design will flow and take a strong and beautiful direction. If the concept is shaky, you may be in trouble.
Sounds simple. Well, the process of getting to a coherent story takes time. We start by doing our 'due diligence' – this means looking at the surrounding buildings, understanding their character, scale, and raison d'être. With our client's brief at the front of our minds we start forming opinions. We aim to combine what our client wants with what is architecturally right and what the planners expect into a harmonious solution.
Questions we ask ourselves include: How will the new building fit it in? In what way should it contrast? What key characteristics from the surrounding buildings do we want to play with and replicate? How will we make it unique, yet not stick out like a sore thumb? This way the story is built, with every architectural move we make having a secure reason behind it. Once decisions have been made and the story is in place, we use it to guide the build, but in the first instance it helps us gain sometimes challenging planning permissions for our clients.
Sometimes a client arrives with a very fixed idea of what they want, but when we assess all the factors, we can see an alternative plan would be more successful. However, some of our best projects have arisen from such challenging beginnings. Taking the client with us on each design story is crucial. The most dynamic clients will push and test the concept and it will get stronger in this environment. Collaboration is key. And while creating a successful story we build great relationships with our clients too.
You always know when you're in a house with a good design story. There's no niggling feeling of, 'Why did they put that door there?' Or 'It's a shame I can't see the great view from this window.' Every decision has been examined carefully, and the result is a home that not only sails through the planning process, but is a pleasure to be in and look at.
A good example is this large new contemporary Scottish home, pictured, for which we won a Herald Property award. When the client first arrived, they knew they wanted space, light, and a home that celebrated the surrounding countryside, yet their initial idea meant that sunlight wasn't maximised and the way the house sat in its environment didn't quite work. The great thing on this project was
that our client was receptive to our suggestions. We were able to explain why our suggestions worked, and he was able to follow our story and understand why we had come to decisions. The planners granted permission for this new home without hesitation, and even praised the thoughtfulness that had gone into the design. The client is thrilled with the finished house, and we're thrilled to have won a design award for it.
The house in question has a very large massing with expansive interior spaces built with the aid of a steel frame. Yet it sits so well in its environment, actually designed into the curve of the land, that it doesn't appear huge, despite having several outdoor areas for different purposes, such as entertaining, gardening, sitting. But go inside this open-plan house, and you're immediately struck by a feeling of substantial flowing space.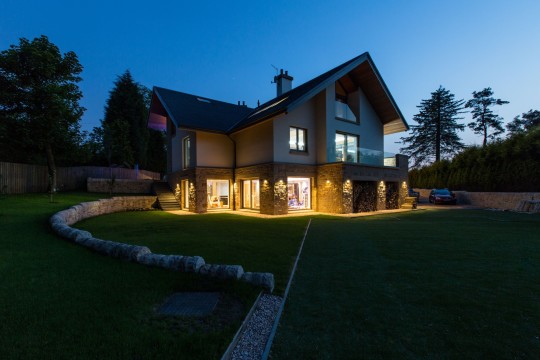 The same goes for the design of the materials palette. On every build, you must have a durable reason why you have chosen each material. Again, does it fit in or contrast? And why? Are your window styles historical or contemporary – can you accurately describe why? The final complete story should be conceptually bombproof.
As another example, if you've designed a two-storey building with minimal unevenly proportioned windows, when the neighbouring buildings are single storey with geometrically proportioned windows, then you've got a difficult story to tell. In this instance, unless you can think of good reasons why you would disrupt the urban grain, you're going to struggle with the planners at the very least.
I'm not suggesting that design rules in suburban, urban, or rural patterns can't be challenged, but it must be for good reason. You – and your clients – need to be certain of why you're doing it.
Another common architectural issue is internal flow. Many homes have rooms 'in the wrong place' What I mean is they don't link to other parts of the house very well, or they face away from good natural light. For example, a kitchen facing the north-facing drive is rarely as good as one looking over a south-facing garden. Our job is to spot these issues, and design every aspect of a house considering everything as we go – again, working out why we should do something and then applying that logic. Of course, with experience these aspects of design become second nature to us architects. But each new project has its own story, and writing that story is crucial every time.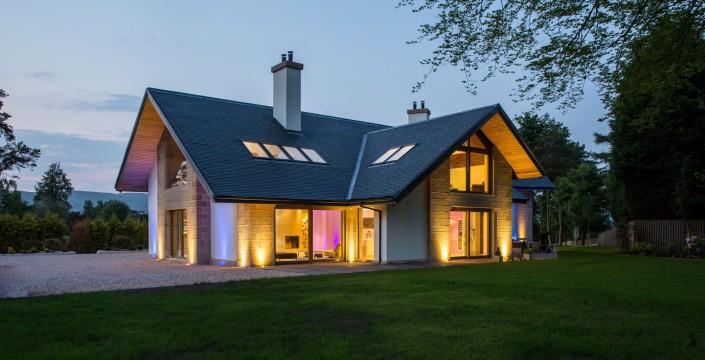 In the end, planners love a solid concept or a good design story. And you need planners on your side. It helps them understand the architectural reasoning behind your proposal and if they can understand your design reasoning and agree with you, you are much more likely to gain the all-important planning permission – and you'll also end up with a more successful building.