PRESS: SCOTLANDS GREENEST HOUSE?
28th August 2018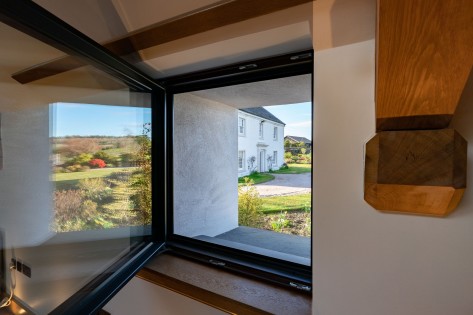 Scottish architects Thomas Robinson Architects have just had the very first EnerPHit certified build in Scotland signed off. What was a draughty traditional Scottish barn, is now one of the country's most energy-efficient homes.
See details about the project here:https://www.thomasrobinsonarchitects.co.uk/residential/projects/aucheneden
WHAT IS ENERPHIT?
EnerPHit is a standard of energy-efficient building that comes within the Passivhaus system. EnerPHit and Passivhaus standards create truly efficient, comfortable, affordable and ecological homes. They are more than just low-energy standards.
Passivhaus is used for newbuilds. EnerPHit is used for retrofit or renovated houses, where the presence of older materials (a crumbly barn wall, for example) mean different methods are used to create extreme energy efficiency.
In layman's terms, this means Thomas Robinson and his team have created an exceptionally eco- friendly home from what was an old barn. Read more about Passivhaus and EnerPHit systems here: www.passivbuildings.com
FIRST EVER IN SCOTLAND
Mike Roe of Warm Low Energy Building practice certified the project designed by architect Tom Robinson and built in central Scotland, issuing a unique ID number along with a plaque. Mike estimates that there are approximately 1000 certified Passivhaus buildings in the UK. Of these around 56 are EnerPHit projects, but this is Scotland's first, a fact confirmed by Laura Soar on the communications team at the Passivhaus Trust. (https://www.passivhaustrust.org.uk/)
THE PROCESS
One reason more architects don't use the Passivhaus and EnerPHit methods is that they require a very detailed and monitored process, to make sure all the standards are accurately reached.
The aim is to reduce carbon emissions, improve energy efficiency and ultimately achieve greater energy security, while creating an exceptionally pleasant environment to live in. This is done via a variety of methods.
People want comfort, a healthy and fresh indoor environment and great energy performance. These things are talked about by most building professionals, but the Passivhaus methodology is underpinned by scientific reasoning. This means there are clear targets set for things like what temperature humans find comfortable in a fully draft-free environment; what the optimum air change rate is for good human health while also achieving energy efficiency; and what heat load should be achieved beyond which insulation levels and airtightness measures become too extreme to achieve benefit. The standard is extremely rigorous, but unlike other building energy measurement schemes the performance modelling has been proven to be very accurate.
Architect Tom Robinson has long been interested in the Passivhaus method, believing it to be a sophisticated and reliable way of building in an ecological, sustainable and eco-friendly method.
Tom Robinson says, 'Achieving compliance for this building was not straight forward and many of the obvious measures that could have been done such as making the south facing openings larger were not available to us. However, we've done it and we and the client is exceptionally pleased with the result.'
To get a Passivhaus building certified requires that an independent Passivhaus Certifier checks the Passivhaus Planning Package software calculations carried out by the designer. Also, delivery note evidence must be submitted for all relevant products used such as windows, doors, insulation, airtightness seals membranes and tapes. Documentation of airtightness tests and mechanical ventilation and heat recovery systems used must be submitted for checking, together with photographic evidence of the construction, showing every stage from insulation of the soil pipe drainage pipework under the floor to sealant of the insulation around the mechanical ventilation duct where it goes from the MVHR unit to the outside and everything in between. This degree of rigour is not something that the construction industry in Scotland is used to. It requires the contractor to fully embrace it and everyone on site to understand what is at stake.
PROJECT TEAM:
W & A Scott - Builders
McDougall Surveyors - Quantity Surveyors
Peter Brett Engineers - Engineer
Read more about the project on Tom Robinson's blog: https://www.thomasrobinsonarchitects.co.uk/blog/feature-building-upgrade-retrofit-how-good-can- you-get
Contact:
Please contact Lauren Greenock, Marketing Coordinator at Thomas Robinson if you would like to feature this story, and for images. (01360 661144; lauren@thomasrobinsonarchitects.co.uk)