TECHNICAL SPOTLIGHT: ACHIEVING ENERGY RESILIENCE IN ARCHITECTURE
22nd March 2022
With vast hikes in energy prices, and the planet to consider, energy resilience in buildings is at the forefront of our minds as architects, now more than ever.
Here at Thomas Robinson Architects, we have long been interested in energy-efficient buildings and in harnessing renewable energy as we design Scotland's future. Fifteen years ago, clients Steve and Deborah Macken, owners of Lomond Energy and Cambusmoon Holiday Cottages, inspired us to put that interest more fully into practise, and we created our first highly energy-efficient home for them. Since then, we have continued working with them to create an entire energy-efficient development, which includes a new house, two holiday homes developed from existing farm buildings, and an office for Lomond Energy.
The Mackens were early advocates of renewable energy, and today they specialise in in setting up onshore wind projects. They applied their knowledge of the renewable energy sector to the restoration of their farm, alongside learning new skills in designing low carbon buildings.
The project led to Tom Robinson joining the Association of Environmentally Conscious Builders (Steve was already a member), attending conferences and events, and also to studying Passivhaus design methodology, eventually qualifying as a Certified Passivhaus designer. We now adopt the principles of this methodology in all our projects and achieved the first ever Passivhaus refurbishment project in Scotland, to the EnerPHit standard, which won a Saltire Award for housing innovation.
Here, Tom Robinson talks to Steve, to delve into what lessons were learnt in that first project, and the journey towards achievement of an energy positive development.
Tom: You explained your ambitions for a highly energy-efficient house very clearly in our first meeting as I recall. It had to use minimal energy and be comfortable with great light levels. But you also wanted exciting architecture, not just a building. What experiences lead to this brief?
Steve: As well as always knowing I wanted to harness renewable energy sources, I recall we always came back to a simple, contemporary form of building when reviewing early concepts for the house. These were reminiscent in form of Scottish long/black houses in terms of their footprint, like those still seen in much of north and west Scotland and the islands.
Such buildings not only fit well into a rural farm setting alongside existing buildings, but lend themselves to contemporary features such as large glazing areas and open-plan interiors. At the same time, details like roof pitch, narrow roof overhangs and of course white render, timber and stone finishes remind us of their design heritage.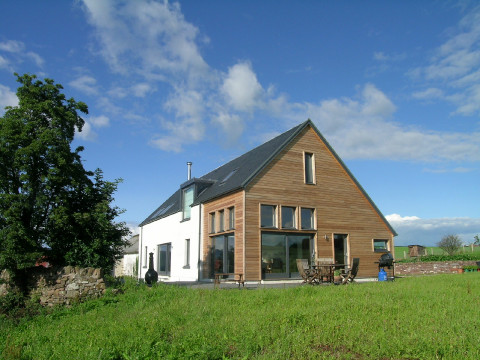 Tom: The foundation of the low-energy design for the house was the building envelope: high levels of insulation, high performance glazing, elimination of thermal bridging, airtightness, some thermal mass as a heat store. There was some added expense due to the higher standard that was achieved. Has there been more payback on this or have the technological elements been the best investment?
Steve: There's no doubt this extra attention to detail has paid off not only in terms of internal comfort levels, but financially. I reckon our increased attention to airtightness and some aspects of insulation added 5% cost to a standard fabric build, but this paid off in less than a decade in terms of energy costs. Alongside other technologies we have since deployed, our total energy bill for the farm (comprising house, two cottages, outbuildings and office), and power for our two electric cars and those of our guests who plug in, is around £100 per month.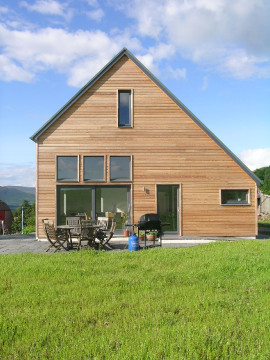 Tom: You have monitored the energy performance of the house and the other buildings on the development. How do they compare with other more standard new houses?
Steve: In simple terms, when the house was completed in 2008, it had a similar energy consumption to a two-bedroom flat constructed to building standards of the time. In other words, it consumed over 70% less energy than the average. We took things a step further with the cottages which were completed in 2012, applying much of the learning from the house to achieve even greater efficiencies.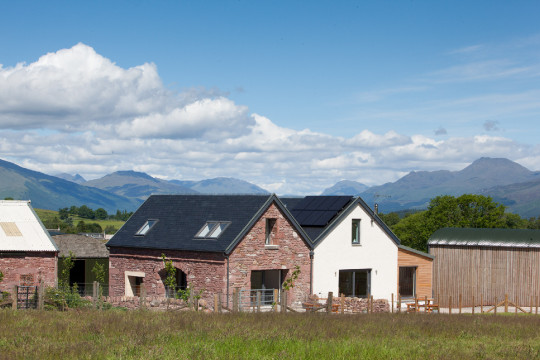 Tom: You have a range of technologies in operation. Explain what you opted for and how successful they have been.
Steve: Both house and cottages employ underfloor heating systems supplied by ground source heat pumps (one for the cottages, one for the house). In both cases the ground floor heating loops are encased within the concrete floor slab, which was poured onto 200mm insulation and further insulated around the edges. This maintains good temperature stability throughout the year, even during a power cut in the depths of winter, as the insulated floor slab will store heat for at least a couple of days with the heat pump off. Bar underfloor heating circuits in the 1st floor house bathrooms, there is no other 1st floor heating and this hasn't proved necessary; the 1st floor bedrooms are typically a few degrees cooler than the ground floor rooms, which is how we prefer it.
We have also deployed solar PV at the farm, with 22kW of capacity across 90 panels now installed on the sheds and one of the cottages. More recently, a battery storage system has been added to smooth out the difference between PV production and demand, and has proved more valuable of late as it is now under the control of electricity supplier in return for a low tariff.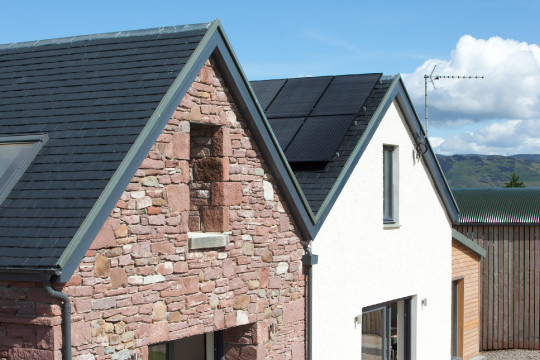 Tom: You have a large thermal store as part of the system, which is a large tank of hot water. Explain how this operates and allows you to store energy for times when you need it?
Steve: It's basically a well-insulated tank containing almost a tonne of water, and acts like a battery for heat. It can use multiple sources to add heat – such as a heat pump and solar thermal panels – and heat can be extracted from it at any time for underfloor heating and hot water. The great thing about it is that low-tariff electricity can be used at night to 'charge' it via the heat pump at night, the heat being extracted for space heating and hot water during the day.
Tom: I know you have lived with an electric car for quite a few years now. Have the economics of that worked out well?
Steve: Without a doubt, there has been a huge saving. We have also just swapped our second (diesel) car for an EV, so there'll be no more visits to a petrol station and a full 'tank' every morning as these are just plugged in overnight to charge like we do with our phones.
Tom: In summary, as this was really the first highly energy-efficient project we completed, it remains inspirational to me. I wrote in our last newsletter that as architects we often find ourselves being stretched by our clients. This was certainly the case on this project. Steve's enthusiasm encouraged my excitement for the possibilities of low-energy building. Joining the Association of Environmentally Conscious Builders and absorbing their publications and courses led me to a three-day course at the Centre for Alternative Technology in Wales to learn more about the technologies and ideas that we were adopting at East Cambusmoon. We adopted the AECB Silver standard for the house. My subsequent qualification as a Passivhaus designer has influenced every design I've been involved with since.
East Cambusmoon is an inspiring success story driven by exceptionally forward-thinking clients. For our practice the project triggered dramatic learning and growth so we are extremely grateful to Steve and Deborah for that. It is great to see their businesses thriving and benefiting from their long view of how to create a remarkable model of energy resilience. I urge others to follow in their path.
Experience the contemporary design, comfort and renewable energy technologies of East Cambusmoon by booking a stay at the Old Dairy (2 bedrooms) or Curlew Cottage (4 bedrooms); guests with EVs can also enjoy complementary charging. Check www.lochlomondholidaycottage.com for details and to book.