THOMAS GRAHAM COMMUNITY LIBRARY IS OPEN !
14th March 2023
Scottish architects Thomas Robinson Architects and Strathblane Community Development Trust are celebrating the opening of the new completely community funded Thomas Graham Community Library in Strathblane.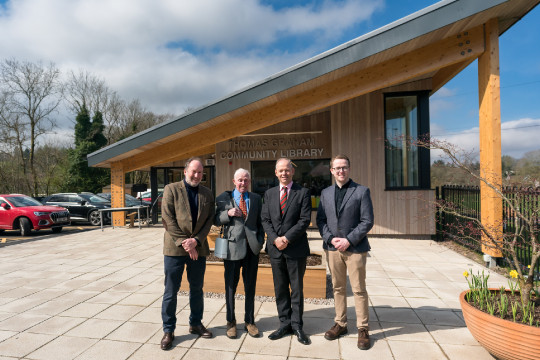 In 2021, The Scotsman reported that one in eight Scottish libraries have permanently closed since 2010; this amounts to 83 public libraries since 2009, according to a Scottish Government's response to a parliamentary question submitted by MSP Miles Briggs.
So, it's extremely exciting to be involved in the opening of this new library for the community, completely funded by that community.
The old Strathblane library was housed in a 40-year-old portacabin. Local residents decided to bring the community together and make things happen to replace it. Strathblane resident and businessman Angus Graham, Thomas Graham's great great nephew, generously donated almost three quarters of the £1million cost for the project, with the rest of the money being raised through the community and grant aid.
Read more about the project on the Thomas Robinson Architects project pages here: https://www.thomasrobinsonarchitects.co.uk/commercial/projects/thomas-graham-library
The client, Thomas Graham Library Ltd a subsidiary of Strathblane Community Development Trust states that the Scottish Libraries and Information Council have said this is the first new public library in the UK to be community-owned and funded, with its service delivered in partnership with Stirling Council in a plan negotiated between the development trust and council.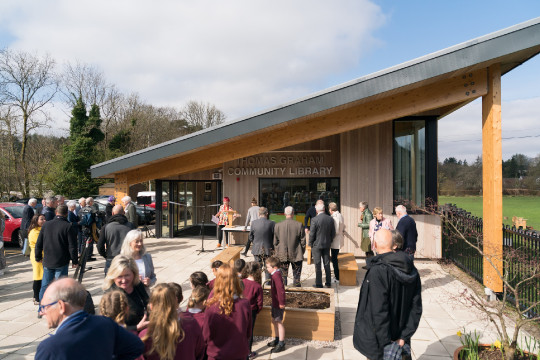 THE NAME
Thomas Graham Community Library is named after acclaimed 19th-century Scottish chemist Thomas Graham, whose legacy includes the essential text book Elements of Chemistry, Graham's Law (find out more here), and the beginnings of what became dialysis machines used daily in modern medicine. His great great nephew Angus Graham has been the driving force of encouragement for a dedicated committee of volunteers who have given so much of their time to make sure this project happened.
ABOUT THE PROJECT
The beautiful new Thomas Graham Community Library building sits on the site of the old one, adjacent to the primary school. Benches, generously made by a local gentleman, using oak from a tree felled on the main funder's land, are placed outside.
The new library features a largely glassed north wall with broad views up to the Campsie Hills.
The building has strong eco-credentials, including an advanced energy generating system based on roof-mounted solar panels, an air-sourced heat pump and battery storage. Most impressive of all, it has achieved a Carbon Neutral rating for its energy performance.
While the library will supply books and other materials for reading and borrowing, there are also two community rooms for educational activities. It also contains an expanded collection of books, a dedicated children's area and accessible IT desks.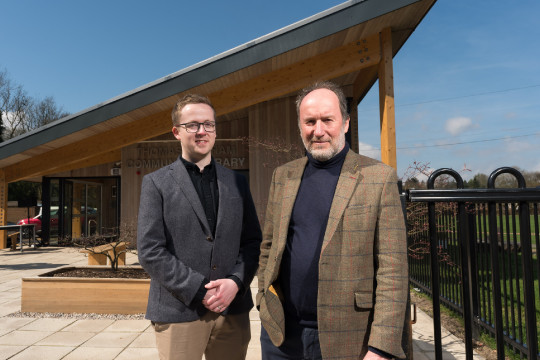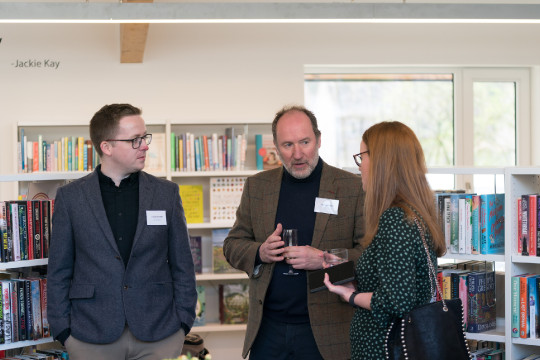 Craig Higgins of Thomas Robinson Architects, said, 'We have loved being involved in this high-profile community project in this sensitive rural location. This elegantly simple structure which sits proudly on the site will be a beacon to all local residents and a wonderful community meeting and learning place. Its tall, glazed public facade will draw people in and provide a dramatic view of The Campsies from inside the building. The library will stand as a testament to the generosity, commitment, and sheer will of some incredible individuals in this local community to create and realise their own vision for this library.'
Thomas Robinson of Thomas Robinson Architects, said, 'Public architecture projects such as this provide inspiration and a feeling of collective ownership for all those who use them, enhancing the lives of the community they serve.'
Thomas Robinson Architects worked on the highly successful Braemar Highland Games Centre as executive architects; another important community project in a sensitive rural location. See more here: https://www.thomasrobinsonarchitects.co.uk/commercial/projects/heritage-centre-for-braemar-gathering