LUXURY SERIES: 5 SELECTED PROJECTS
17th August 2022
Scottish Luxury House Design by Thomas Robinson Architects
While luxury is to some extent a subjective term, designing luxury homes for our clients here in Scotland has some key themes.
Size is the obvious one. The thrill of creating a grand large-scale luxury house design is as exciting for us architects as it is for the client building their dream Scottish home. Some of these completed buildings sit as grand mansions on a hill, others are more subtly embedded into the landscape with the substantial interior a surprise on entry. Creating a sense of flow, light and space in each home we design is another key aspect of our luxury projects.
Use of the finest materials is another factor in luxury house design. However, we are firm advocates of using the best materials across every project, believing that high quality materials and craftsmanship make better long term design sense. We're talking use of Scottish whinstone, superior slate roofs, sleek and luxurious interior finishes, or strong sustainable timber, as just a few examples.
Putting expert teams together for each house design and build is also something we prioritise, as it leads to the successful production and finish of our luxury home designs. Having been architects of Scottish homes for well over 20 years, our processes are finely tuned, and we have well-honed methods for producing even the grandest-scale luxury buildings with finesse, fine attention to detail and little fuss.
A few of our large luxury house designs across Scotland in recent times are featured below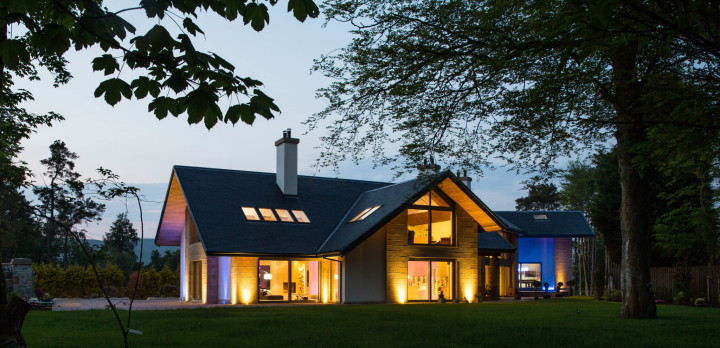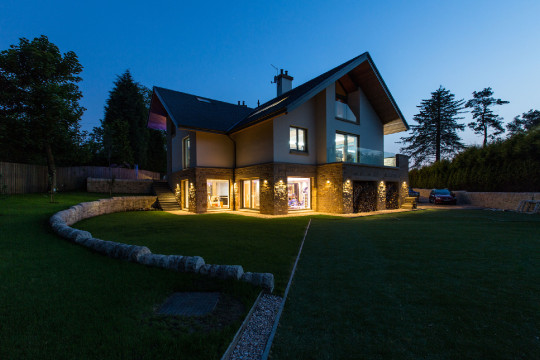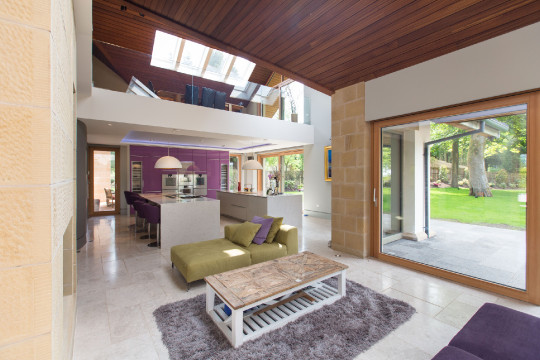 For this newbuild luxury country home in Stirlingshire (Country Park), while size was important, planning rules meant that we had to cleverly embed the house into its setting. This means that the house doesn't appear mansion-like from the exterior, but inside there is a wonderful feeling of open space and flow. The four dramatic chimneys in this Herald Property Award-winning contemporary design offer a feature that has hints of Arts and Crafts homes of the area.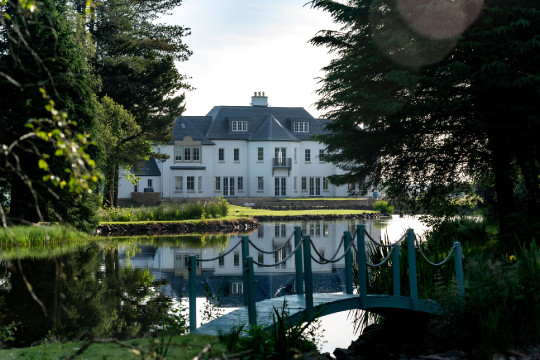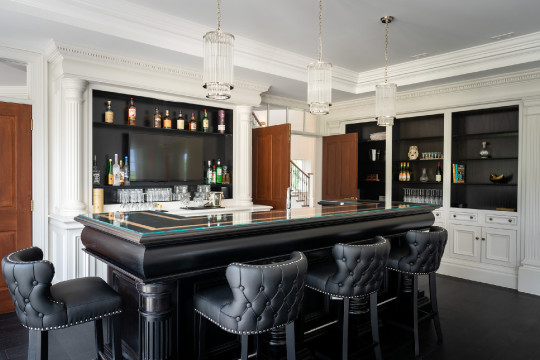 This luxury home design (Grand New Country Home) was completed by us in 2021. It has an obvious grand design sensibility, sitting proud on a hilltop in 12 rural acres that feature a lochan and mature woodland. It fits a recognisable Scots Baronial Scottish vernacular style yet is an architectural newbuild. Everything is visibly well-appointed in this Renfrewshire luxury home design, from its external grandeur, to its statement entrance with sweeping staircase and Italian marble flooring. Further luxury features include a handmade Clive Christian bar, intricate stonemasonry and specialist plasterwork, bringing Scots Baronial style into the 21st century.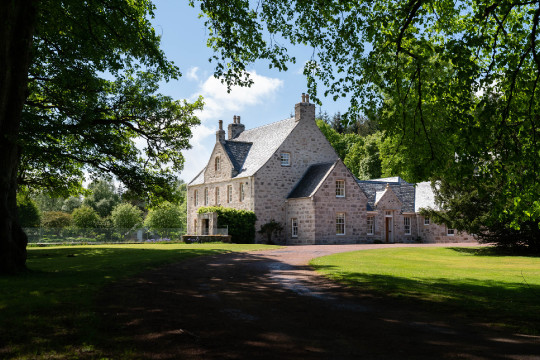 While we love being the architects of luxury newbuilds, it's also a pleasurable challenge to sensitively renew Scottish listed country homes. These projects use our conservation design skills to bring a modern sense of luxury into some splendid historic buildings, such as this 1750s fine B-listed country house (Scottish Listed Mansion) overlooking the River Findhorn. Creating a new extension with a luxury kitchen and dining space to entertain guests was a key part of the project design, as well as strengthening the connection between the original and new parts of the house. Part of the sense of luxury here is in recreating an accurate traditional appearance, using the right materials, including lime render, slate, and painted timber windows to match the existing house.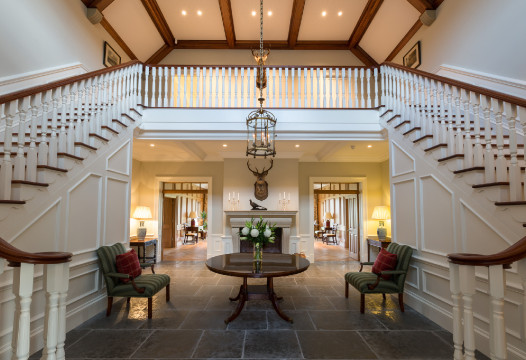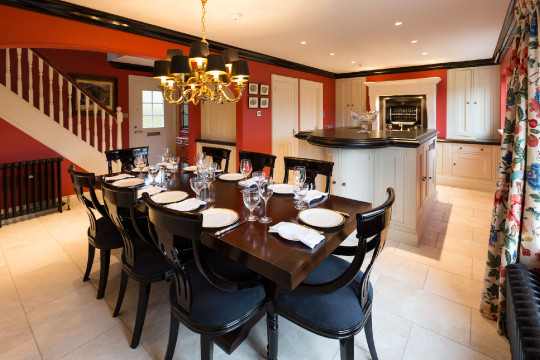 Imagine a luxury Scottish shooting lodge and this Highlands newbuild project (New Build Sporting Lodge) that we completed a while back may well be what forms in your mind's eye. The interior design offers a classic sense of luxury, with stately double-height entrance hall and elegant double staircase. It immediately presents itself as a perfect large luxury property in which to host generous gatherings of friends and family.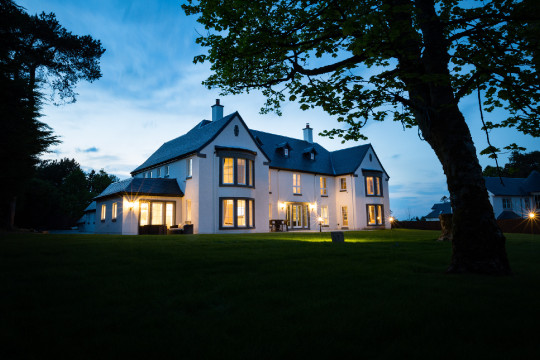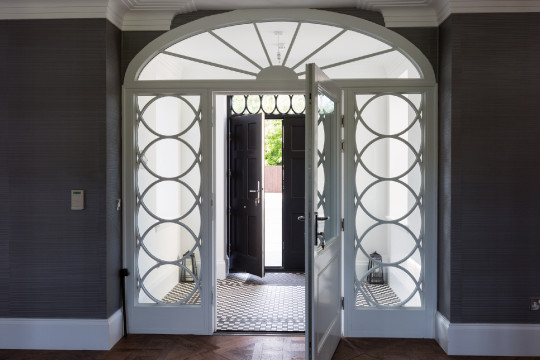 Say the name Gleneagles and luxury is one of the first adjectives that comes to mind. This historic country house hotel just outside Auchterarder has a dedicated market in holiday makers seeking indulgence and the best life has to offer. We were very privileged to design a splendid luxury home right beside Gleneagles (Gleneagles new build residence). Although it's a private property, part of an immaculate crescent of individually designed houses adjacent to Gleneagles Hotel, it was crucial that the home fit within the design aesthetic of the hotel, and achieved a similar luxury tag. It's a very successful family home – impressive from the outside and spacious with great flow inside. It achieves the client's desire for expert craftsmanship, including bespoke plaster cornicing and coffered ceilings, oak parquet flooring, an ornate oak staircase, stone fireplaces, purpose-made joinery items, contemporary and stylish bathrooms and an exceptional kitchen. It fits the new luxury Scottish home description effortlessly.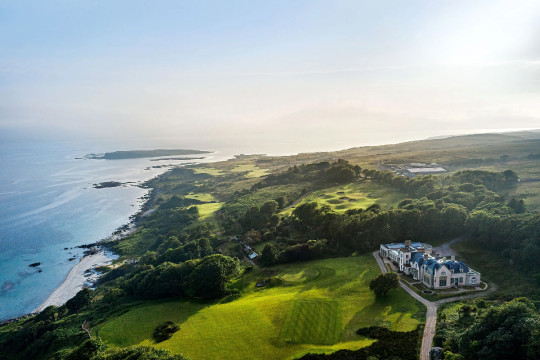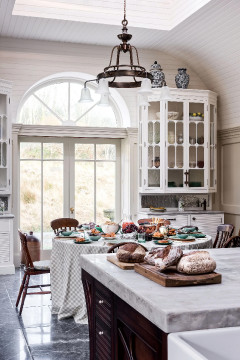 BUILDING ON A SCOTTISH ISLAND - Blog - Thomas Robinson Architects
This Scottish island luxury country estate (Scottish Island House) was a fantastic project to contribute our architectural expertise to. Like many grand scale projects, it involved many stakeholders. We oversaw a long stretch of building and renovation work here on Jura in the Inner Hebrides, and ensured that every luxury detail was enacted in the best way. In many parts of this luxury country home, it is difficult to tell what is old and what is new, so seamlessly have the architectural details been completed. It's a truly wonderful property in one of the most beautiful remote Scottish locations.
Do you have a luxury Scottish house build in mind? A dream home, holiday house or renovation of a historic property perhaps? Contact Thomas Robinson Architects to talk through your idea now.